Evolution of the Tunable Laser
Premium Performance Tunable Laser
TSL-710
Narrow linewidth, low noise and premium performance.
Excellent Accuracy (± 2 pm) & Resolution (0.1 pm)

Narrow Linewidth < 100 kHz

Wide Tuning Range from 1480 to 1640 nm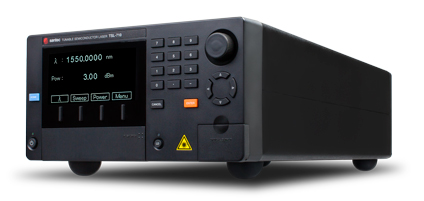 Overview
Combining high output power with high signal-to-noise ratio makes the TSL-710 an invaluable tool for optical testing. An innovative external cavity design has been implemented to lower the optical ASE noise, leading to a signal-to-noise ratio of over 90 dB/0.1 nm, while still maintaining a high output power of over +10 dBm. The TSL-710 is available for WDL and PDL measurement with our multi-port power meters (MPM series), a polarization control unit (PCU-100) and dedicated software. (Swept Test System)
Features&Characteristics
Wide tuning range from 1480 to 1640 nm
If you require a different wavelength range, please refer to the
TSL-550
which offers more wavelength ranges, with options from 1260 to 1680 nm.
High wavelength accuracy: +/- 2 pm
High output power: + 13 dBm
High signal-to-noise ratio: 90 dB/0.1 nm
Narrow linewidth: 100 kHz

- Typical Data

-
Applications
Optical characterization of components and modules:
- Tunable Filters, Interleavers, Fiber Bragg Gratings, Couplers, Splitters, Isolators, Switches, etc
- WSS and Wavelength Blockers
- DWDM components
Silicon photonic material characterization, including micro-cavity ring resonators
Spectroscopy
Interferometry

Please refer to here for details. -> Swept Test System
Download
- Brochure -
If you require an operation manual, please download from
here
.
- Control Software -
If you require a GUI software and the driver, please download from
here
.