Lasers for Sensing
Santec has optimized its high-speed scanning laser technology for use in a number of sensing applications including spectroscopy, FMCW LiDAR and FBG sensors. Customization of scan speed, center wavelength and scanning range are also available to meet the requirements of new sensing applications and customer needs.
| Model No. | Center Wavelength | Features |
| --- | --- | --- |
| ISL-90 | 3.3 μm | Mid IR High Speed Swept Source |
| ISL-280 | 1.06 μm | Single Mode Tunable VCSEL at 1.06μm |
Mid IR High Speed Swept Source
ISL-90
Preliminary
ISL-90, is a swept-wavelength laser operating in the mid-IR around 3.3 microns, that operates with a continuous, repeating scan selectable between 5 and 200 kHz. This wavelength range is suitable for spectroscopy of CH, NH and OH radicals. The fast scan speed enables the real time monitoring of very rapid concentration changes. This is a unique laser which is single mode over the entire scanning range and with a linewidth of less than 0.1 pm.
【Features】
High Spectral resolution:<0.1 pm ( <0.0001 cm-1 ) * HWHM
Narrow linewidth suitable for rotational spectrum measurement
Simultaneous detection of multiple gases from a mixed gas
Wide wavelength scanning range:3200 to 3400 nm (2941 to 3125 cm-1)
High scanning speed allows analysis of dynamic phenomenon,such as transient changes in an internal combustion engine
Robust design with few mechanical parts
Direct gas measurement.
Compact, separate probe head
【Applications】
Process control at petrochemical plants
Flue gas control in coal-fired electrical power plants
Gas concentration sensing in semiconductor processes
Analysis of methane composition in natural gas
Development of the next-generation internal combustion engines
Mid-infrared OCT
【Performance】
Center wavelength: 3.3 μm
Maximum output power: ≧ 10 μW
Scan rate: 2 - 40 nm /μs
Scan range: ≧ 200nm
Wavelength resolution : < 0.05 pm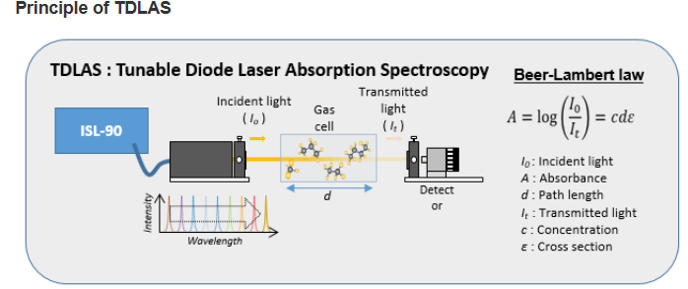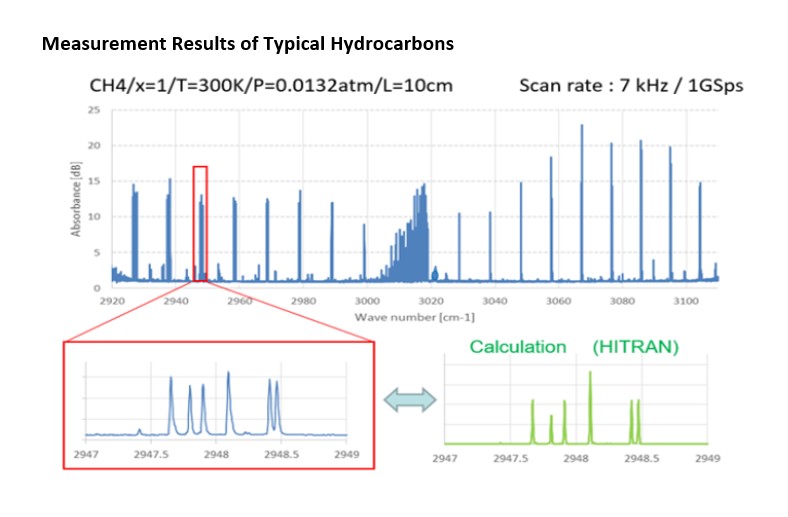 Parameter
Unit

Specification

Notes
Scan Rate
kHz
5 to 100
Selectable
Scan Speed (Average)
nm/μs
2 to 40
Selectable
Optical Output Power
μW
10
Minimum
Center Wavelength
μm
3.3+/-0.1
3030+/- 100cm-1
Tuning Range
nm
200 (Typical)
185cm-1
Wavelength Resolution
(Spectral Linewidth (HWHM))
pm
< 0.05
<0.00005cm-1
Duty Ratio
%
> 45
Collimated Beam Diameter
mm
2.5 (Typical)
FWHM
Power Requirments
V ac
100 - 240
50 - 60Hz
Operating Environment

°C

RH
10 - 35
10 - 95
Outside Air Temperature
Non-Condensing

Physical Dimensions
(W x D x H)

mm
345 x 375 x 150

Without Probe Head

Weight
kg
7

Without Probe Head
Single Mode Tunable VCSEL at 1060nm
ISL-280
New
ISL-280 is based on Santec's advanced electrically pumped VCSEL (Vertical Cavity Surface Emitting Laser) technology. This is an attractive laser for sensing applications with single mode lasing, a variable scan speed and low signal noise. The ISL-280 delivers the best in-class performance in a compact package that has been designed for system integration. The laser is robust, reliable and suitale for high volume mass production.
【Features】
Single mode lasing
Ultra long coherence length
Flexible scanning rate, tuning range, and direction
Coherence revival and mode competition noise free
Compact , reliable design
Integrated K-trigger
Low cost
【Applications】
OFDR
FMCW LiDAR
FBG interrogator
Shape sensing
【Performance】
Center wavelength: 1060 nm
Maximum output power: ≧ 60mW
Scan range: ≧ 75 nm
Scan rate: 4 - 400 kHz (selectable)
Coherence length : > 100 m (theoretical value)