Accessories & OCT Software
Santec provides all of the components necessary to build a complete Swept-Source OCT (SS-OCT). These are quality products manufactured to exacting standards for use in our OEM products and implemented in medical qualified and industrial applications. The products can be used outside of OCT for a variety of sensor applications including LiDAR.
We also provides a number of software and image analysis tools. OCT Software Development Kit (SDK) and sample programs are available for users that seek software customization. We have the capability to provide custom OCT image analysis tools for defect detection using A.I. algorithms. Image visualization software for 2-D and 3-D images are also available.
OCT Grade Balanced Photo Detector
BPD-200
A balanced photo detector provides an electric output that corresponds to the difference between two optical signals. This detection method is the standard in SS-OCT and reduces common mode noise due to the laser power fluctuation. Our BPD-200 has been specially developed for OCT applications with low back-reflection and flat balanced response to reduce undesired image artifacts. BPD-200 yields a 3 dB sensitivity advantage when detecting the signal inverted in phase between two input signals and can be used in most heterodyne measurement systems.
【Features】
Wide dynamic range (DC to 80, 200 or 400 MHz)
Flat balanced level
High reliability, gain and linearity
Specially designed for artifact reduction
【Applications】
Swept Source-OCT
Heterodyne measurement
OFDR (optical frequency domain reflectometry)
【Performance】
Wavelength range: 950 nm - 1600 nm
Frequency response: 80 MHz, 200 MHz or 400 MHz
Maximum input power: 20 mW (10mW for 400 MHz version)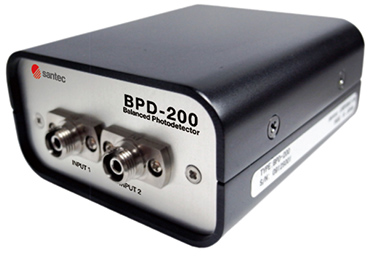 Flexible SS-OCT DAQ Board
HAD-5200B-S
Santec offers a high speed Data Acquisition (DAQ) Board compatible with our high performance swept source laser. A patented rescaling algorithm is encoded into the FPGA for the real-time OCT image processing.
【Features】
High speed ADC (12 bit, 1 GSps)
Customized FPGA for real time SS-OCT image processing
Real-time resampling, FFT, FIR filter and dispersion compensation
High reliability, gain and linearity
Analog output (2ch) suitable for X-Y probe scanner control
【Applications】
Swept Source-OCT
Heterodyne measurement
OFDR (optical frequency domain reflectometry)
【Performance】
Input: Single-end 2 ch
Sampling Rate: 1 GS/s
Resolution: 12 bit
Trigger: External trigger / Analog trigger / Software trigger
Analog output: ±4 V , 16 bit (2 Channels)
System BUS: PCI Express 2.0 (Gen2) , 5.0 GT/s x 8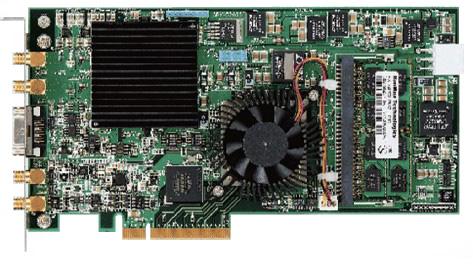 OCT Grade Interferometer Module
IFM-100/200
IFM-100 and IFM-200 are an Mach-Zehnder interferometer modules. The configurations are typically customized based on each customer's OCT system configuration and can include PS-OCT. The IFM-100/200 can include features such as adding a visible laser as an imaging guide as well as electrically controlled optical delay line. Santec can also supply OEM customers with custom solutions including Michelson or Fizeau interferometers.
【Features】
Integrated optical delay line, variable attenuator and polarization controller options.
SMF or PMF versions.
Mach-Zehnder configuration (standard), Michelson & Fizeau (options)
【Applications】
Swept Source OCT
Heterodyne measurement
OFDR (optical frequency domain reflectometry)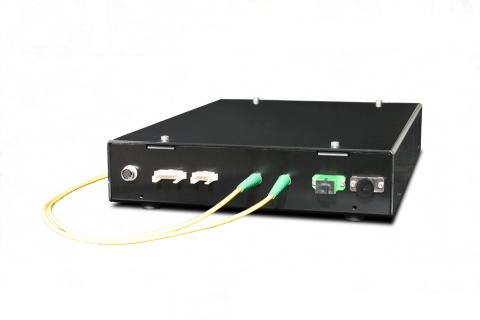 Main Software of IVS series
Inner Vision Software
Santec's Inner Vision software is supplied with all of its IVS SS-OCT systems. It includes 1D, 2D, 3D and imaging modes together with the ability to save image data as well as the raw OCT data. All functionality is available in Santec's SDK (software development kit) for programming in C++, C# and LabView.
【Functions】
Measurement and display cross sectional image & 3D voxel image
Time-lapsed image recording
Refractive index conversion
Image and raw data output
Point-to-point distance measurement
Peak detection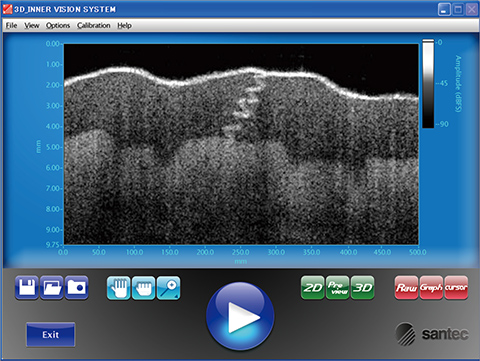 OCT Image Viewer
3D OCT Viewer
Santec's OCT Viewer software has been specifically designed for viewing OCT images in 3D. Clear and striking images are generated by simply importing the OCT data. The image can be rotated, trimmed and contrast adjusted using a variety of settings. This enables features to be optimized for image analysis. Images can be animated and saved to create impressive presentations showing the all aspects of the 3D image as the settings are adjusted.
【Functions】
Zoom-in / out

Drag / move
Addition of frames
Trimming (clipping), rotation
Leveling of clipping plane from any point of view
Segmentation (Isolation of desired part) *1
Contrast setting, transparency and rendering
Color histogram display
Export as bitmap file or movie file (option)
Simple data loading from Santec's IVS systems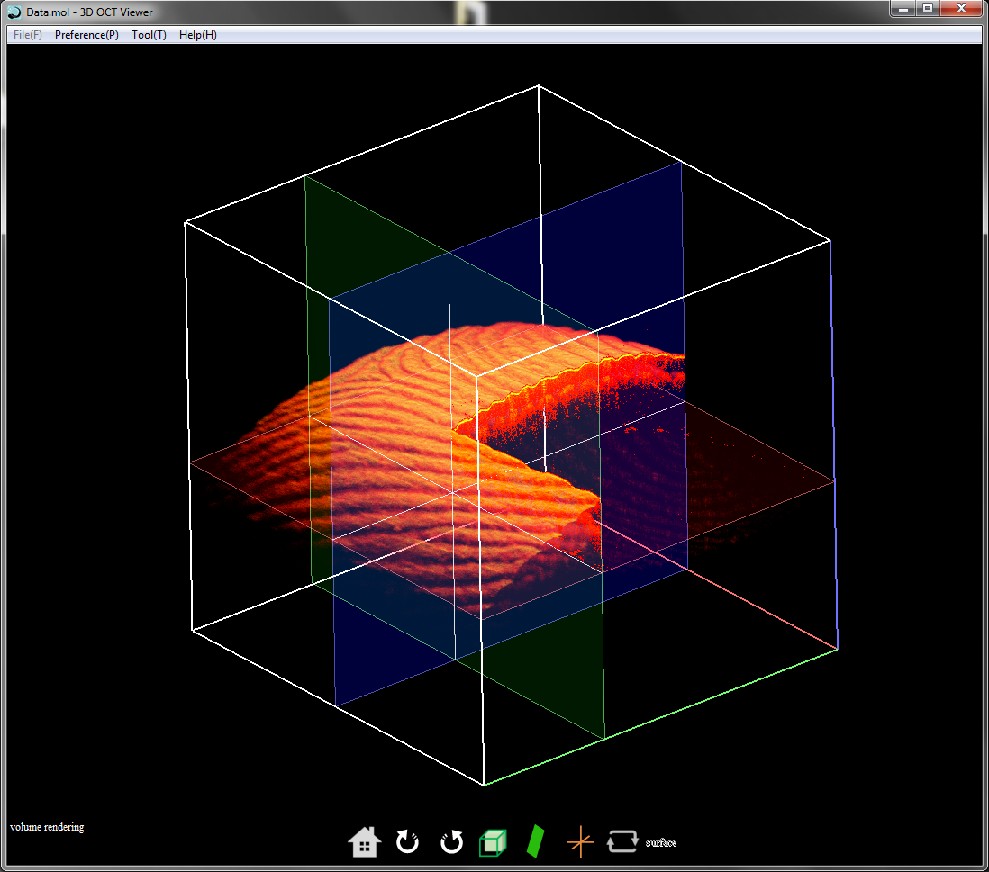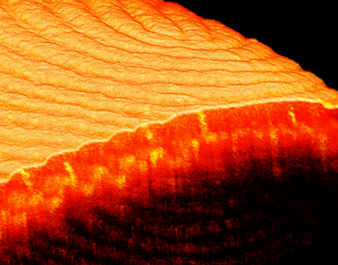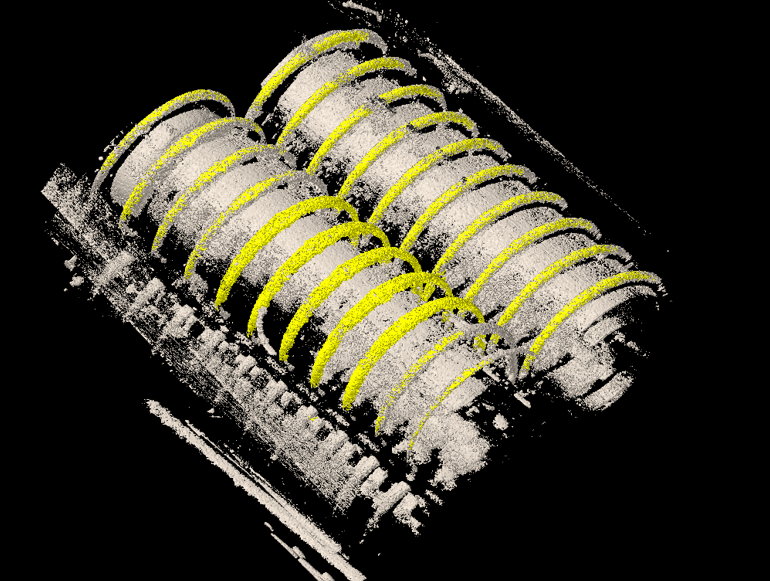 3D OCT Image Analysis Software
Multi Slice Viewer
Santec's Multi Slice Viewer provides advanced analysis capabilities for 3D data (raw data exported from IVS-2000). The simultaneous analysis of all X-Y-Z plane data can provide a better understanding of image data. This powerful tool assists in the extraction of detailed information from data-sets and quantifies the 3D image content.
【Functions】
Simultaneous 2D slice-data presentation from all 3 planes
2D image slice from any randomly selected point
Averaging of any arbitrary 2D data point
Peak search within any arbitrary 2D data
Refractive index scaled presentation of data
Save image data as bitmap, JPG or PNG
Measure distance between any 2 data points
Simultaneous 3-planes presentation