Santec offers High-Power LCOS spatial light modulator "SLM-300".
Product Name: Spatial Light Modulator
Module code: SLM-300
・ SANTEC, a leading design and manufacturer of tunable lasers, optical instruments, OCT products, and fiber-optic components, has introduced a high-power durable LCOS spatial light modulator (SLM) (product code: SLM-300) with enhanced Liquid Crystal on Silicon (LCOS).
・ The SLM-300 has been tested to withstand up to 200 Watts of power, making it the world's most durable SLM. When compared with santec's conventional SLM-200, the SLM-300 displays over 100 times higher power durability, making it an ideal choice for high-power laser processing, 3D-Printing and IC trimming applications.
・ The SLM-300 will be showcased at the BiOS / Photonics West 2019 in San Francisco , February 2 to 7, 2019, at SANTEC's booths #8762 / #762.
【Features】
– 100 times higher power durability (up to CW 200 Watts in Visible ~ IR) compared to the SLM-200
– High precision resolution, WUXGA (1920 x 1200) and Full-HD (1920 x 1080) support
– 10 times higher relative phase stability (~0.002 πrad) than conventional products
– 4 times superior 10-bit (1024 gray level) than conventional products
【Applications】
– Laser processing
– 3D-Printing
– IC trimming
【Image of the product】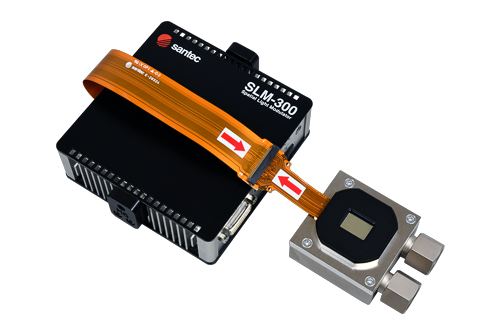 SLM-300