Santec Announce a Record Wavelength Scan for an Electrically Pumped VCSEL
KOMAKI, Aichi, January 9, 2019,- Santec Corporation (JASDAQ: 6777) Santec, a leading manufacturer of tunable lasers, optical instruments, and fiber-optic components, announces a record 88nm wide continuous wavelength scan for an electrically pumped VCSEL (Vertical Cavity Surface Emitting Laser) light source. This performance record for a 1050nm centered VCSEL is a result of a collaborative effort between Santec, Tokyo Institute of Technology and Tokyo University's Institute of Industrial Science. This result will be reported at the upcoming Photonics West 2019 meeting in San Francisco [1].
The High-speed Scanning Tunable VCSEL's element is made up of two parts; the VCSEL, responsible for laser oscillation, and optical MEMS, (Micro Electro Mechanical System) responsible for high speed scanning. The project was brought to fruition thanks to VCSEL research carried out by Tokyo Institute of Technology's associate professor Nobuhito Nishiyama and optical MEMS research completed with Tokyo University's Institute of Industrial Science's professor Hiroshi Toshiyoshi. Using an electronically pumped VCSEL to achieve such a wide scanning range typically proves to be a difficult task, but the combined research efforts produced designs that not only extends the scanning range to 88nm, but also preserve the reliability typically associated with electronically pumped sources.
Santec have applied this breakthrough in electrically pumped tunable VCSEL technology to release a new version of the HSL-1 tunable VCSEL product.
The details will be reported at the conference of BiOS/Photonics West 2019 (February 2-4, 2019) in San Francisco, USA[1]. And the product (HSL-1 VCSEL) will be exhibited at santec booth (booth #8762 / #762) of the conference exhibition.
[1] Mohammed Saad Khan, et al. " High reliability electrically pump MEMS based widely tunable VCSEL for SS-OCT" SPIE Photonics West 2019, MOEMS and Miniaturized Systems XVIII , Feb. 2-7, 2019, The Moscone Center, San Francisco, CA.
Performance Highlights
Wide scanning range
An 88nm scanning range around 1050nm is ideal for high resolution imaging in medical (even demanding ophthalmic applications), production inspection, and 3D-sensing applications.
Long Coherence Length
Over 100 meters of coherence length. The increased coherence length makes the HSL-1 attractive for 3D sensing applications including coherent LiDAR
Selectable scan speeds
The scan speed of HSL-1 can be user defined up to 200-kHz and reconfigured after shipping for enhanced flexibility in customer product configuration.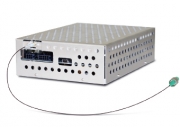 High Speed Scanning Laser [HSL-1]
HSL-1 Product information
About Santec:
Santec Corporation was established in 1979. It is headquartered in Komaki, Japan and has subsidiaries in North America (Santec U.S.A. Corporation) and China (Santec (Shanghai) Co., Ltd.). It is listed on the JASDAQ Market – a section of the Tokyo Stock Exchange. The company employs 160 staff and serves customers in more than 30 countries; these include most of the world's major telecommunications companies and telecommunication system manufacturers. Santec's products include a broad range of optical components and tunable laser light sources for the optical fiber industry, together with a range of fiber optic test and measurement instruments.
Further Information
For further information about Santec Corporation or any of its products, please contact the International Sales and Support Division by email at info@santec.com.
Information is also available on Santec's website: http://www.santec.com/.