Announcement of High Sensitive 3D Optical Profiler System(Model:OPS-1000)
Product Name:  3D Optical Profiler
Model: OPS-1000
Komaki, Japan, September, 8th2020 – Santec Corporation, a leading manufacturer of advanced optical components, tunable lasers, optical test equipment and OCT systems, today announced the product launch of the 3D Optical Profiler, OPS-1000. Supporting R&D and production environments the OPS-1000 delivers fast, accurate and wide 3D object scans with high sensitivity, capturing surfaces other profilers may miss.
The OPS-1000 delivers the world's leading detection sensitivity for a profiler, combining a proprietary heterodyne detection system with a scanning light source to operate at a sensitivity of 100dB. In addition, the system dynamic range of >70dB enables non-contact, high-speed measurements with high accuracy, regardless of shape, material, color or surface condition. Intuitive control software allows the user to quickly configure scan profiles, automate testing, and export the point cloud data for analysis.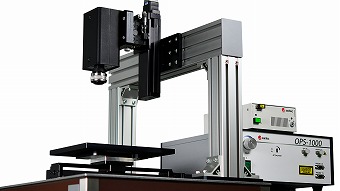 Features
High Sensitivity
Minimum light detection sensitivity of 100dB, Dynamic Range >70dB
Single Beam Geometry
Single Beam Geometry minimizes structural interference within shapes and structures.
High Speed Measurement
OPS-1000 brings high speed measurement of 400,000 points per second for complete automatic inspection.
Long Measurement Range
The OPS-1000 may be configured up to a measurement range 1m.
Ambient Light Agnostic
OPS-1000 utilizes a coherent measurement principle; so is not affected by ambient light such as sunlight or stray light in a production environment, delivering reliable data.
This product will be displayed at Measurement Inspection Sensor Exhibition (booth number #6-70) which starts on September 9, 2020 in Nagoya, Japan.
(*)Minimum light receiving sensitivity of optical 3D measuring instruments being commercialized (Investigation conducted in August 2020)
About Santec
Santec Corporation was established in 1979. It is headquartered in Komaki, Aichi, Japan and has subsidiaries in North America (Santec USA Corporation in NJ), U.K. (SANTEC Europe Ltd. in London) and China (Santec (Shanghai) Co., Ltd.in Shanghai). Santec is listed on the JASDAQ Market (6777) –a section of the Tokyo Stock Exchange. The company employs 254 staff members and serves a global customer base; including the world's major telecommunications companies, transmission/sub system manufacturers, internationally recognized research centers and universities. Santec's product lines include a broad range of advanced optical components, tunable lasers, optical test/measurement and OCT systems for telecommunication, life science, sensing and industry applications.
Contact Information to Santec:
https://www.santec.com/en/inquiry/