Santec announces sales launch by Alcon of SS-OCT biometer for cataract specialists in Japan under the brand MOVU.
Komaki, Japan, August 3, 2020 – Santec Corporation, a leading manufacturer of advanced optical components, tunable lasers, optical test equipment and OCT systems, today announced the sales launch, through Alcon Japan, of the Swept Source Optical Coherence Tomography (SS-OCT) biometer ARGOS ® (model name: ARGOS ® ver1.5.).
The ARGOS®, sold under the brand MOVU®, incorporates Santec's market leading SS-OCT technology and is used to measure key parameters of the eye, including axial length, prior to cataract surgery.
"ARGOS® Ver.1.5" integrates the biometric and surgical planning functions of the cataract surgery guide system "VERION™" and will be released in Japan on August 3, 2020. "VERION™" is manufactured and sold by Alcon, Inc. (Headquarters: Geneva, Switzerland).
Under a global strategic alliance between the Santec and Alcon, Alcon is the worldwide Exclusive Distributor of the SS-OCT biometer ARGOS® Ver.1.5.
The ARGOS® streamlines planning for cataract surgery, seamlessly combining accurate biometric measurement with smarter surgical planning in one platform to deliver best in class performance for surgeons, their staff and their patients.
For more information about this product, please see the press release of Alcon Japan Co., Ltd. below.
https://www.alcon.co.jp/press-releases/20200803-argos
For our strategic alliance with Alcon, please see our press release below.
"Santec and Alcon make strategic alliance on Swept Source Optical Coherence Tomography biometer"(May 2nd, 2019)
https://www.santec.com/media/en/a116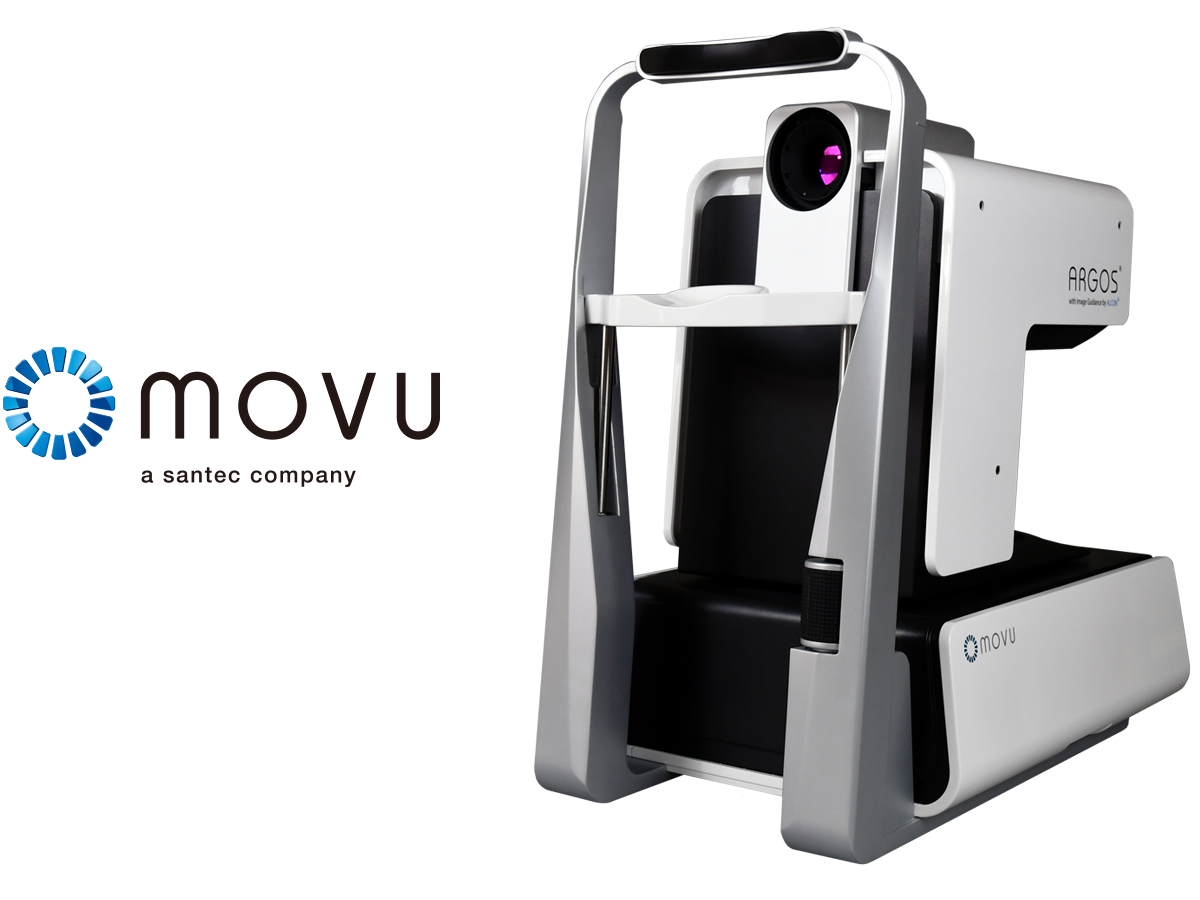 About MOVU
MOVU is a medical equipment brand that Santec launched in 2014. MOVU commercialized the SS-OCT biometer ARGOS® that takes images of the whole eye by high depth OCT, utilizing technology that Santec first developed in 2004. ARGOS® was FDA cleared to sell in the US in October 2015, and has since expanded its sales area with European CE mark and Japan regulatory approvals.
MOVU's mission is to improve clinical measurements, delivering high speed and high accuracy diagnostic solutions. MOVU strives to contribute to improving the quality of life of patients around the world. For more information, please visit https://movu-inc.com/
About ARGOS® Ver.1.5
ARGOS® Ver.1.5 improves on the first generation ARGOS® by incorporating the function of reference images capture in addition to the conventional high-precision and high-accuracy biometric functions.
Generally, in the treatment of cataracts, the opacified lens is removed and an intraocular lens implanted to restore vision. Measurement data of ARGOS® Ver.1.5 may be utilized for a series of workflows to determine intraocular lens power, plan surgery, display the surgical guidance on a video microscope, and perform intraoperative evaluation. The ARGOS® Ver.1.5 enables the highly accurate power selection needed for premium lenses such as toric intraocular lenses for astigmatism correction and accurate adjustment during surgery.
About VERION™
Alcon's cataract surgery guide system "VERION™" is a system that creates a cataract surgery plan based on the data measured before surgery and presents the guide during surgery by linking it to the surgical device.
About Santec
Santec Corporation was established in 1979. It is headquartered in Komaki, Aichi, Japan and has subsidiaries in North America (Santec U.S.A. Corporation in NJ), U.K. (SANTEC Europe Ltd. in London) and China (Santec (Shanghai) Co., Ltd.in Shanghai). Santec is listed on the JASDAQ Market (6777) – a section of the Tokyo Stock Exchange. The company employs 254 staff members and serves a global customer base; including the world's major telecommunications companies, transmission/sub system manufacturers, internationally recognized research centers and universities. Santec's product lines include a broad range of advanced optical components, tunable lasers, optical test/measurement and OCT systems for telecommunication, life science, sensing and industry applications.
About Alcon
Alcon helps people see brilliantly. As the global leader in eye care with a heritage spanning more than seven decades, we offer the broadest portfolio of products to enhance sight and improve people's lives. Our Surgical and Vision Care products touch the lives of more than 260 million people in over 140 countries each year living with conditions like cataracts, glaucoma, retinal diseases and refractive errors. Our more than 20,000 associates are enhancing the quality of life through innovative products, partnerships with eye care professionals and programs that advance access to quality eye care. Learn more at www.alcon.com.
* ARGOS and MOVU are trademarks or registered trademarks of Santec Corporation.
Contact Information to Santec:
https://www.santec.com/en/inquiry/
Tel. +81-568-79-3535