SANTEC develops improved response speed LCOS-type spatial light modulator (model:SLM-210).
Product name: Spatial Light Modulator
Module code:
SLM-210
Contents
SANTEC, a leading design and manufacturer of tunable lasers, optical instruments, OCT products, and fiber-optic components, has developed new LCOS-type spatial light modulators (LCOS-SLM) (Module code :
SLM-210
) with significantly improved response speed as a high performance product. It uses its second generation LCOS technology.
SLM-210
is a LCOS-SLM with a response time of less than 10ms, which is more than 20 times faster than the conventional LCOS-SLM. It is expected to contribute to the improvement of performance in optical applications such as wavefront correction, optical beam shaping for laser processing, biosensing and quantum computing.
The new product will be exhibited at BiOS/Photonics West 2022, San Francisco, USA from January 22, 2022 at SANTEC booth #8327(BiOS)/3327(Photonics West)
Santec canceled the physical presence at BiOS / PhotonicsWest 2022.
Click
here
for details.
【Applications】
- Beam reshaping for laser processing
- Optical tweezers, manipulation
- Wave-front compensation
- Beam steering
- Diffractive optics
- Spatial optical networking
- Quantum computing
Further Information
For further information about SANTEC CORPORATION or any of its products, please contact the International Sales and Support Division by email at info@santec.com.
Information is also available on SANTEC's website:
https://www.santec.com/
SLM-210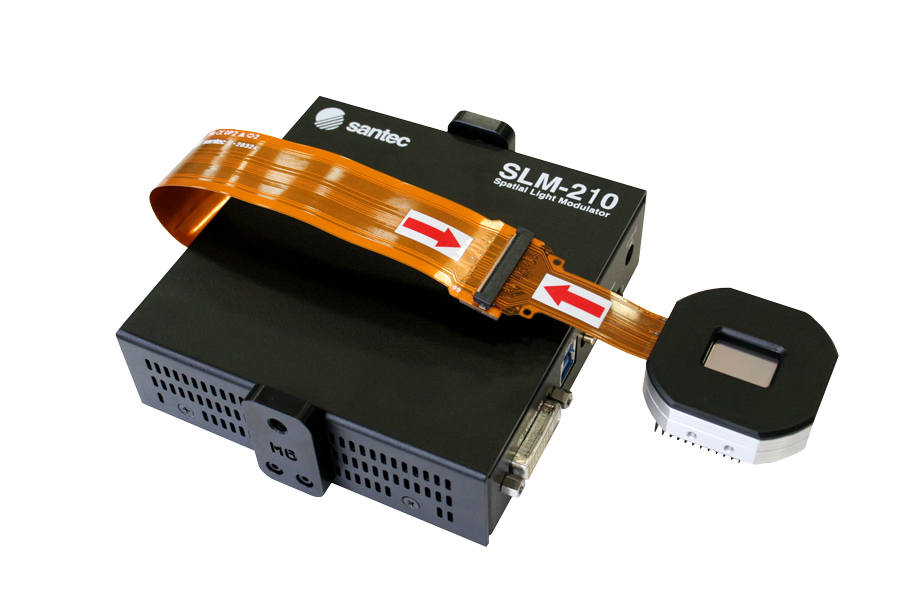 About SANTEC:
SANTEC CORPORATION was established in 1979. It is headquartered in Komaki, Aichi, Japan and has subsidiaries in North America (SANTEC U.S.A. CORPORATION in NJ, JGR Optics Inc. in Ottawa and OptoTest Corp. in CA), U.K. (SANTEC Europe Ltd. in London) and China (Santec (Shanghai) Co., Ltd.in Shanghai). Santec is listed on the JASDAQ Market (6777) – a section of the Tokyo Stock Exchange. The company employs 203 staff members and serves a global customer base; including the world's major telecommunications companies, transmission/sub system manufacturers, internationally recognized research centers and universities. Santec's product lines include a broad range of advanced optical components, tunable lasers, optical test/measurement and OCT systems for telecommunication, life science, sensing and industry applications.