Santec Announces the world's smallest, low drive voltage, MEMS based tunable filter for 400G+ digital coherent transceivers.
Product Name: Compact Optical tunable filter

Module code: MTF

・ SANTEC (headquarters located in Komaki City, Japan), a leading designer and manufacturer of tunable lasers, optical instruments, OCT products, and fiber-optic components, has introduced the world smallest Micro Electro Mechanical Systems (MEMS) tunable filter (TF) for 400G+ digital coherent transceivers.
・ 400G+ digital coherent transceivers are rapidly expanding in the data center interconnect (DCI) field and will be deployed for mobile 5G and IoT communications in the near future. The deployment of small form factor, compact integrations such as CFP, CFP2 and CFP8 have been accelerated in the 400G+ digital coherent transceiver market as well.
・The MEMS based tunable filter (code: MTF) is a passive optical component used in transceivers to reduce optically amplified noise and to improve transmission quality. The MTF, now moving into its 3rd generation, continues to offer superior optical designs and cutting-edge automated production technologies, optimizing the devices not only for telecom applications, but also for data-com markets as well. The MTF has achieved a record low-voltage specification of 12V; 5 times lower when compared with other 60V suppliers. In addition, the MTF does not need a specific high voltage IC to drive the component.
【Features】
– World smallest tunable filter,
MTF Driving at 12V max (compared with 60V max VS other vendors)
【Image of the product】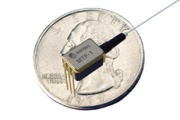 – The MTF and other high performance components will be showcased at OFC2019 (Optical Fiber Communication Conference and Exhibition) on March 5th to March 7th, 2019 at the San Diego Convention Center, San Diego, California in the United States. Please visit SANTEC at Booth #3531 for more information.